Three reasons every chimney needs a cap:

1. Rain protection - water causes the greatest damage to your chimney of any of the elements. It soaks into the porous bricks, eats away at the mortar, hastens the destruction of the chimney liner, and destroys the chimney crown. A chimney cap does a great job of protecting your chimney from water damage. For maximum chimney protection we recommend a multi-flue cap. That's because a multi-flue cap covers the entire chimney, not just one flue.

Imagine how much water would come into your home during a rainstorm if you had a hole in your roof twelve inches square. Chimney flues may be even larger than that, so where does all that water go? It runs down the chimney and seeps into the bricks and mortar, settling behind the firebricks. There is little air circulation in the chimney (unless you're using it) and no sunlight, so the inside of the chimney stays wet long after the rain stops. This moisture erodes the mortar joints and weakens the brick. Add to this a freeze/thaw cycle during the cold months, and you have all the needed ingredients for a deteriorating chimney.

Take our word for it: even though you can't see the damage happening, it's there, slowly deteriorating your beautiful fireplace and chimney. This is a particularly important consideration if you have a metal firebox incorporating a metal damper and smoke shelf. All fireplace dampers made of metal are subject to this deterioration as the water mixes with creosote and mild acids are formed. Even chimneys serving wood stoves are in need of a cover.


2. Animal protection - one of the great sources of danger to homeowners is the threat of disease from animals like raccoons, squirrels, birds, and rodents that make their home in their chimneys. A well-made chimney cap will keep those animals out of your home forever. Sturdy mesh and a strong lid keep even the most determined critters at bay.


3. Spark protection the mesh screen on our caps protects your home from sparks emitted from your chimney. That means less danger of a fire caused by stray sparks from your fireplace or wood stove.

Chimney caps are made from a variety of materials. The most common are galvanized, stainless steel, and copper. Caps made of stainless steel and copper will last much longer than those made of regular galvanized metal and carry a lifetime warranty. Spending a little extra for a good quality chimney cap will be money well spent and there will be no danger of rust staining the chimney. We do not offer galvanized caps, prices for copper caps upon request .


Please note: All the caps listed here come with 3/4" mesh. California requires a 5/8" mesh.
Please E-mail Us if you need a California sized cap.

Please note: These are the most common sized caps, we have many more sizes available, E-mail Us if you don't see what you need.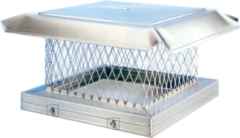 A Single Flue Stainless Steel Chimney Cap For Masonry Chimneys
You will not see these chimney caps at the local discount home centers, they are only sold by chimney professionals. The HomeSaver Pro chimney cap is made of 100% 304 stainless steel, right down to it's pointed hex-head set-screws.
The one-piece, 8" high screen is heavey, 18-ga., 3/4" mesh, the top is hand-finished with a rolled edge. The sturdy base also features a one-piece design and includes weld nut technology to prevent stripped threads.
The HomeSaver Pro cap has a clean, stylish design that shouts "Pro" from top to bottom. The all-stainless HomeSaver Pro comes with a lifetime warranty for any type of fuel being used.
Single Stainless Steel Flue Caps for Masonry Chimneys
Model
Price
Outside Dimension of Flue Tile
Minimum
Maximum
8" X 8"
$65.95
6 1/2" X 6 1/2"
8 1/2" X 8 1/2"
8" X 13"
$74.95
6 1/2" X 11 1/2"
8 1/2" X 13 1/2"
13" X 13"
$84.95
11 1/2" X 11 1/2"
13 1/2" X 13 1/2"
8" X 17"
$94.95
6 1/2" X 16 1/2"
8 1/2" X 18 1/2"
13" X 17"
$105.95
11 1/2" X 16 1/2"
13 1/2" X 18 1/2"
17" X 17"
$119.95
16 1/2" X 16 1/2"
18 1/2" X 18 1/2"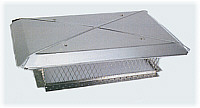 A Multiple Flue stainless steel chimney cap for masonry chimneys.
Multiple Flue Caps for Masonry Chimneys
Model
Price
Base Size
"C"
$159.95
17" X 29"
"D"
$179.95
17" X 41"
"E"
$269.95
17" X 58"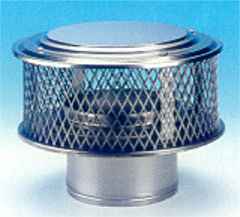 Stainless Steel Replacement Cap For Factory-Built Flues And Relined Chimneys (not for air insulated flues).
Caps for Factory-Built Chimneys
Model
Price
Fits Flue ID
6" Round
$99.95
6"
7" Round
$99.95
7"
8" Round
$109.95
8"
9" Round
$119.95
9"
10" Round
$129.95
10"
---